Versacom and WPML: Simplifying WordPress localization
WordPress is by far the world's most widely used website development platform, and for good reason: it's inexpensive and easy to use. On top of these advantages, the popular WordPress Multilingual Plugin (WPML) optimizes the management of WordPress website localization. WPML delivers a suite of website localization functionalities and provides direct integration with partnering professional translation agencies. Automating a significant portion of the localization management process, WPML does away with many of the risks of error and greatly simplifies the work involved. The larger the website, the more essential WPML becomes for effective localization. Read on to discover the benefits this plugin can offer your organization.
Long, costly steps best avoided when having your website professionally localized
Adapting your websites is fundamental to success in a global marketplace. Customers want you to speak their language and value their culture. Your business results depend on how well you do this.
From a purely technical perspective, a website can be translated directly in the WordPress environment using WPML. However, when you entrust your project to a professional agency, language experts will use a number of other specialized tools to substantially enhance the quality, consistency and efficiency of the localization process. These tools provide tremendous added value, but are unavailable to you if you work directly in WordPress with WPML.
For expert localization, therefore, you have to send your website content to an agency. But this is where things can become problematic, as this process typically involves several time-consuming steps that lend themselves to human error:
Extracting content or manually copying it in text files
Transferring the text files to the agency
Having the files returned to your experts once the content has been localized
Uploading the localized content to your website and manually formatting it
Verifying the content online to detect and correct any errors that might have occurred during the transfer and formatting (especially if your experts are unfamiliar with the target language)
These manipulations have nothing to do with translating the content, but they have a big impact on your budget and timeline, since they take time and require the involvement of more people. And it's an even longer and more complex process if you are having your website localized in several languages at the same time.
That's where the WPML solution comes in, automating tasks that could otherwise jeopardize the project's efficiency. Everything becomes easier, faster, and more secure and cost‑effective.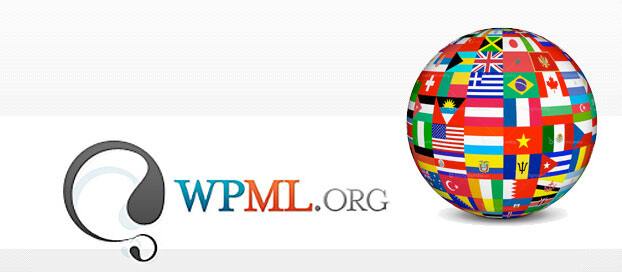 Direct integration with professional localization services: A key WPML advantage
Your organization definitely stands to benefit from having a professional translation agency localize your website. And one of the main advantages of WPML is that your team can easily send the website content directly from the WordPress platform to your agency of choice to have it localized in one or more languages.
Your website primes can very easily manage the localization project through the plugin's dashboard. They simply check off the website pages to be localized and the desired target languages. The content is automatically converted and transmitted to the agency in a format that enables the language experts to apply their professional skills using the best language technology available, guaranteeing you optimal quality and efficiency.
After localizing the content, the agency transfers it back to you via WPML. The content is automatically converted to your website's format and seamlessly uploaded, ready for publication once approved. No further extraction, formatting, correction or proofreading is needed, thereby eliminating the risk of error. The resulting time savings also has a direct impact on reducing your project's overall costs.
Choosing the best localization experts for your organization
When you use WPML, you have access to an integrated list of partnering professional translation agencies that meet certain compliance criteria. Each agency is described briefly and assigned a user approval rating. You will need to determine which agency can best meet your specific needs and provide the most effective localized content for your website. You could rely on an agency's approval rating and assess the agency's work by having it complete a short test using WPML. But it would be risky to make this important decision based on such limited information.
You and your website primes can greatly increase your chances of making the right choice by directly contacting (for instance, by telephone or email) the agencies whose profiles seem the most relevant and reassuring for your organization. This will allow you to select from the outset a trustworthy service provider that can meet all your requirements:
Top linguistic expertise in the markets and fields that matter to your organization
A dedicated team of localization specialists
Guaranteed professional revision of all localized content
In-depth technological know-how leveraging the top management tools and language technology at zero risk
Tailored, comprehensive customer service provided by expert managers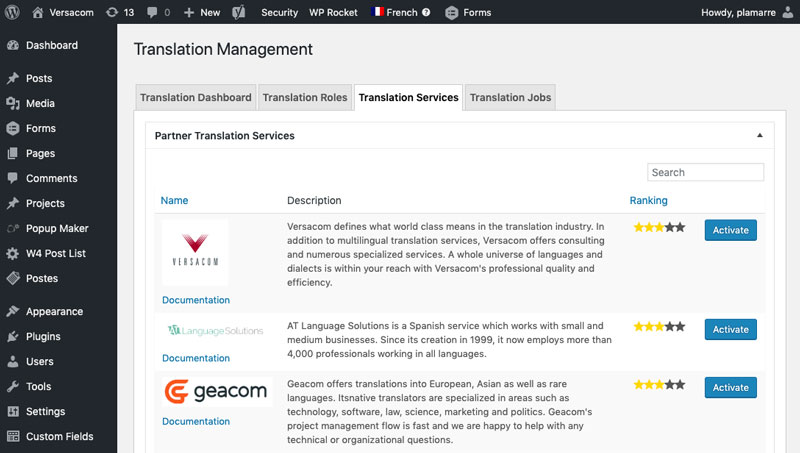 As a partner for WPML, Versacom provides the full spectrum of professional website localization services. Versacom is a cut above the rest: it is the largest Canadian-owned translation firm offering comprehensive linguistic services, for any language and customized to any part of the world, as well as all related services. For over two decades, we have been providing Canadian and international organizations focused on the Quebec, Canadian or global markets with top value, quality and efficiency. We owe our success to a holistic approach to language services that combines the power of people and technology.
We will work with your experts and support them from day one of the planning stage for your website localization project. We will be there to guide them from the moment they purchase, install and configure WPML. Even after delivering your localized content, Versacom will be available for any questions or changes. We guarantee you the same professional quality for both service and content, tailored to your needs. Simply take a few minutes to discuss your project with us before moving ahead!
A solution that's easy to implement
If you need to have one or more WordPress-based websites translated and feel your organization would benefit from WPML, contact us today to learn more about the advantages of this solution. Invite your website primes to consult us to obtain the information and hands-on assistance they need to implement WPML. Versacom will provide you with free advice to help you make the right decisions and ensure your localization projects are a total success.