Businesses today are defined as much by their corporate conscience as their commercial achievements. Social responsibility and sustainable development have become important supplier selection criteria. Still, social involvement must be directed toward the causes that make the most sense to a company's activities and mission. As an ethical translation company motivated equally by a desire to contribute and an acute awareness of our mission, Versacom supports causes seeking to strengthen educational programs as well as linguistic and cultural diversity.
REVOLUTIONIZING THE LANGUAGE INDUSTRY
With more and more organizations seeking to reach new customers all over the world, the language industry is a powerful engine of business development. However, our industry remains very fragmented, with thousands of companies  struggling or simply unqualified to meet clients' long-term needs in both quantity and quality. Versacom is the first professional firm capable of scaling up translation capacity without compromising quality. This fundamental commitment takes shape in a number of ways, described below, that benefit language professionals and, above all, their clients.
Key facets of our commitment to the language industry
Creation of hundreds of permanent positions held by qualified professionals who offer maximum quality, efficiency and security to our clients
Translation firm management
Development of an award-winning sustainable management model adapted to the challenges and realities of professional language services
Beyond disaster recovery planning, ensuring operational continuity at all times through a full backup infrastructure covering all data and operations
Contributions to special language industry reports in business publications, to help companies benefit from the available expertise and better understand the translation issues that directly affect them
Establishment of the only strategic outsourcing model focused on the long-term preservation and enhancement of professional expertise and client assets
Creation of a large, multi-service professional terminology centre enabling client organizations to benefit from the full strategic value of terminology
Creation of a professional language technology R&D centre to develop tools adapted to industry realities and challenges
Active involvement in forming groups rallying together key language industry players and participation in group initiatives and think tanks on critical professional and commercial issues
Paid internship opportunities year-round for promising translation students and graduates to provide our clients with continuous access to qualified experts despite the severe shortage in the industry
Creation of a pricing approach based on challenge-and-risk assessments in order to deliver professional quality at the most reasonable price at all times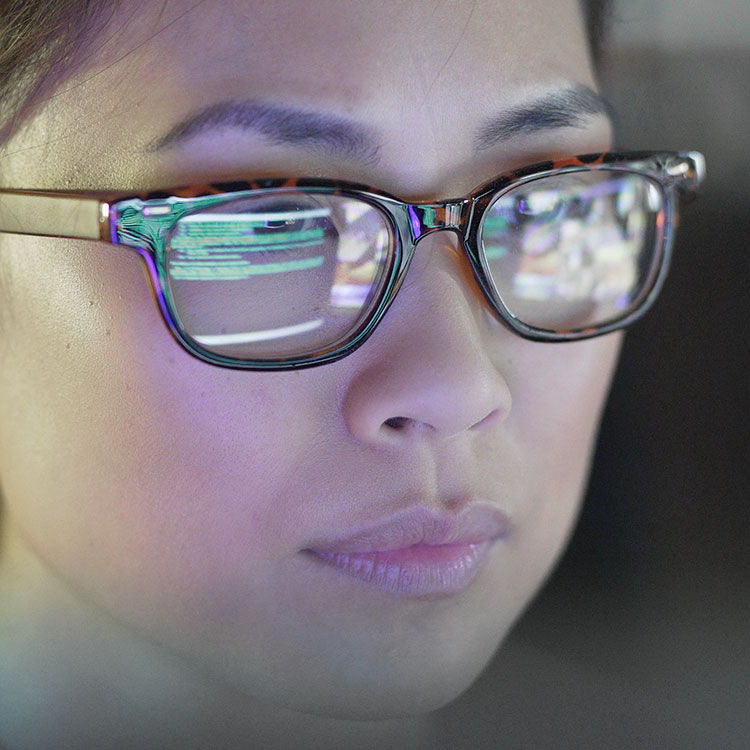 EXPERT-DRIVEN LANGUAGE TECHNOLOGY
Technology can accelerate professional processes and optimize cost control—yet can also jeopardize quality and security if poorly managed. At Versacom's certified R&D centre, our language technology team delivers comprehensive solutions powered by professional intelligence and expertise. They tackle security, quality and efficiency issues from two main angles: risk mitigation and growing efficiency gains.
See how profit and protection can go hand in hand.
Like our clients, we align our business practices with global concerns such as protecting the environment and safeguarding human rights. Beyond complying with laws and regulations, we cultivate the well-being of our people and our planet. We support environmental sustainability directly and through our corporate clients' own initiatives, and have implemented an industry-leading pay equity program, among other examples. What's more, we demand the same proven integrity from our collaborators and suppliers, wherever they may be located in the world. Strong values in all circumstances.
PROFESSIONAL ETHICS
AND VISION
Versacom is committed to achieving its vision ethically in every sense of the word. We remain on the lookout for new standards, policies and strategies aimed at protecting and improving the living and working conditions of our employees and collaborators. We also support our clients in their own commitments by backing specific causes, often through generous sponsorships. We regularly earn new certifications and adapt our processes to the requirements of organizations that entrust us with their multilingual communications. Team up with a partner who is as committed as you are.