THE TRANSLATION MANAGEMENT SOLUTION OF YOUR DREAMS
Multilingual communications management is a painstaking job involving the manipulation of large amounts of data. The complexity of certain translation projects can also be discouraging to managers who have only spreadsheets for trying to see the big picture. Are you looking for a simple, integrated interface to quickly obtain quotes, track your projects and costs, download documents and much more? There's no need to purchase or develop a customized tool. Versacom can equip you with a full-service client portal that is tailored to your needs and very user-friendly.
EXPERIENCE COMBINED WITH INNOVATION
Versacom is always at the forefront of technology development. We equip our clients with sophisticated tools to help them manage their linguistic projects efficiently so they can spend more time on their core business. In addition to offering you professional translation and localization services of the highest quality, we also provide fifth-generation custom portals built on the intelligence of 400,000 projects and specific requests of over 20,000 users. And with an interface and personal dashboard that are among the most user-friendly on the market, you'll be able to navigate easily, even without any specific training.
EVERYTHING YOU NEED AND MORE
Our portal is already built to offer 150 convenient and easy-to-use functions throughout its bilingual interface. Here are a few of them and the advantages they offer that our clients now rely on.
PEACE OF MIND
Access and support around the clock
Confidential IDs and controlled IP addresses
Secured content, communications and management processes
NO RESTRICTIONS
Compatibility with your computer environment
Unlimited number of users
All file types and formats
In-person or online training
YOUR TASKS MADE EASY
Individual or team projects
Pre-populated fields
Quotes and status data
Updates and request history
SPECIAL REQUESTS
Visual and functional customization
Profiles with specific privileges
Individual statistics
Quick integration of new features
A TRIED-AND-TESTED PROCESS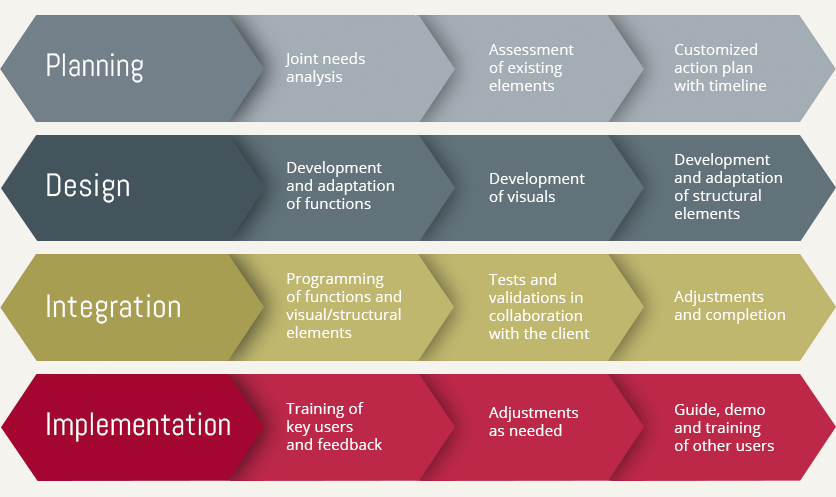 VERSACOM'S EXCLUSIVE TEAM AND INFRASTRUCTURE
Organizations that request a client portal have extensive requirements. Versacom is committed to meeting all of them. Our in-house IT team and infrastructure enable us to offer secure, fully customized solutions. Everything is designed and updated by our team of experts: consultants, analysts, developers, programmers and graphic designers. From the start, Versacom dedicates a multidisciplinary team to you, and you receive all the support needed to ensure that you quickly obtain a secure, compliant and effective portal, within the time you give us.