THE ONE BIG NAME
FOR TRUE PROFESSIONALS
Versacom is a unique employer: the largest professional translation firm, run entirely by language professionals and with a mission built around our experts and their expertise. Over 200 employees strong, our in-house team is made up of top university graduates. We treat our employees as dedicated partners whose expertise is critical to meeting our clients' needs, and provide them with every bit of the support they need to excel.
VALUES THAT INSPIRE,
SINCE DAY ONE
We are truly a family of professionals, pooling our strengths to achieve excellence in a work environment where recognition, flexibility, cooperation and support are part of everyday life.
Professionalism and expertise: cornerstones of the quality, effectiveness and innovation that set us apart from the mass-production mentality characterizing much of the language industry today.
In a fragmented field where too many players work in isolation, we bring together language experts of the highest calibre to offer unbeatable capacity and versatility.
KEY POSITIONS IN OUR INTERNAL TEAM
Versacom relies on a large team of linguists and managers. We have a variety of translator jobs and other positions that attract specialists from a wide range of backgrounds.
Translators
Adaptation specialists
Revisers
Terminologists
Proofreaders
Copywriters
Coordinators
Project managers
System managers
Desktop publishing experts
Vendor management experts
Business development specialists
Accounting and finance experts
Billing experts
Payroll experts
Accounts payable/ receivable experts
Reporting experts
Audit management experts
Technical support experts
IT managers
Network administrators
Security specialists
Research and development experts
Programmer analysts
THE VERSACOM EMPLOYEE EXPERIENCE
Our jobs are stable. Our history is one of growth.
We offer an excellent compensation package and competitive benefit plans.
We welcome interns and offer them employment as soon as they graduate.
The work is interesting and varied, with plenty of opportunity for advancement and special assignments on client premises.
Situated in the very heart of Montréal, in a prime location.
Our office is spacious, bright and inviting.
We offer a work environment conducive to concentration and cooperation.
Productivity doesn't come at the cost of enjoyment. Our office environment embraces humour and fun, shared mealtimes and celebration, whenever the moment's right.
Each employee is ensured full and ongoing support tailored to their professional, technological and administrative needs.
Camaraderie prevails at our office, with co-workers always ready and willing to help each other out.
We offer the best professional technologies along with the training needed to optimize their use.
Our R&D team works unrelentingly to come up with new tools that respond to the real, day-to-day challenges faced by language professionals.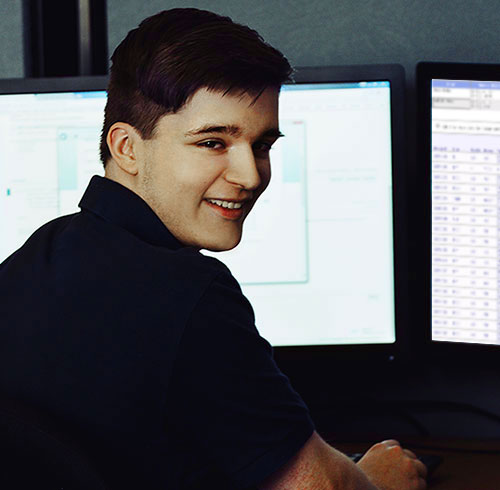 WE VALUE YOUR QUALITY OF LIFE
Given that work is such a big part of your life, you want a job that is professionally rewarding and contributes to your quality of life. Versacom is different from other large translation companies, who take an industrial approach to performance evaluation and employee productivity. Our leaders all come from strong language backgrounds, and our employees are treated as professionals. We work hard, but we offer flexible work schedules that are compatible with everyone's personal reality. We provide our employees with personalized support and give them stimulating assignments. And at Versacom, technology is used for the benefit of professionals, not the other way around. More than just a job or translator career, it's the chance to be part of a big family.
WE KNOW EVERYONE IS DIFFERENT
Everyone has their own needs, preferences, priorities… and biorythms! We welcome passionate, competent professionals who are looking for any type of work schedule. Early bird or night owls, weekday or weekend workers are welcome. We offer teleworking to team members whose assignments and responsibilities allow it, with all the necessary support. Our employees are presented with regular advancement and training opportunities, thanks to a host of innovative programs. At Versacom, the rewards match our expectations.